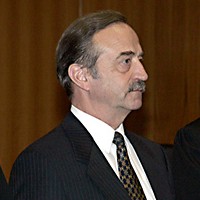 The chap pictured above is called Wolfgang Daschner. He is the vice-chairman of police in Frankfurt.
This man has been fined 10.800 Euros for threatening to torture somebody called Magnus Gäfgen. Who? Magnus Gäfgen is a medicine student who kidnapped the son of a rich man in order to have enough cash to impress his rich girlfriend.
Daschner, upon arresting him, threatened Gäfgen with pain he had never experienced before if he didnt tell him where his victim was. At this point, it was assumed that the 11 year old boy was still alive. In a desperate bid to save his life, Daschner had resorted to this method. In actual fact, though, Gäfgen had killed the lad immediately after kidnapping him.
So, after being convicted and duly sentenced for life, Gäfgen thought it fitting to get his own back on Daschner. The audacity of this criminal is beyond belief! In the opinion of most Germans (in mine as well, although I am no German) Daschner is a hero and should not be punished for his actions in trying to save the life of an innocent boy.
It is being pointed out that Daschner crossed a boundary that should never be crossed, and that Gäfgens human rights were being injured. Strangely these people never mentioned the human rights of an innocent 11 year old boy doomed to die because of Gäfgens greed.